The first book (of 7) on the Ancient Hawaiian sites of the ahupuaʻa (land districts) in Nāpali Coast State Park has arrived. "Miloliʻi; Archival Documentation of Miloliʻi Ahupuaʻa, Kona Moku, Kauaʻi Mokupuni." and is now for sale:
This very Limited Edition Hardbound, archival book is 12.25 wide and 9.75 inches tall with 144 pages. Approximetely 200 books will be for sale as most are set to go to local schools, libraries and Hawaiʻi State Parks thanks to generous donations from our sponsors. Captain Andyʻs Sailing Inc.; La familia Godinez > Kayak Kauaʻi; Dr. Jennifer Kahn > the memory of Maurine F. Kahn; Myra Tomonari-Tuggle; Waimea Plantation Cottages; the Eshelman family > Donald > Bobbie Gallagher.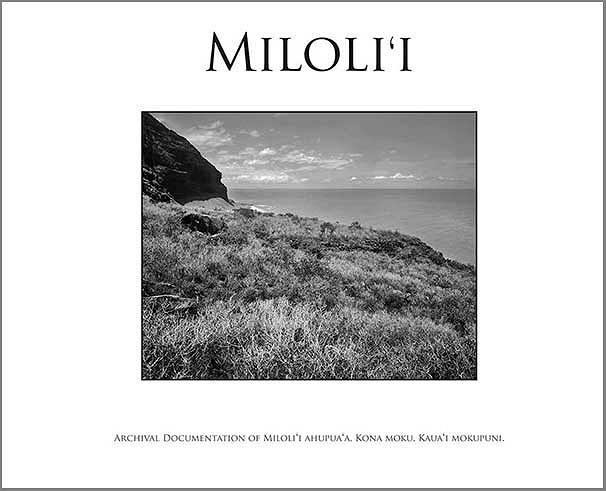 Extensive research was done into the ancient Hawaiian legends and newspapers by Dr. Keao NeSmith, Kauaiʻs preeminent Hawaiian scholar. Archaeologist, Alan Carpenter, Myra Tomonari-Tuggle, Martha Yent, Summer Moore and Dr. Jennifer Kahn have written on their research and findings in Miloliʻi. Plus the historical drawings of Diana Izdebski.
The front matter opens with Place Names, Wind Names, Stream Names, and Miloliʻi Legends from the Hawaiian newspapers of the 1800ʻs, to pay homage to the Kānaka Maoli that lived here for over 700 years. Translated and researched by Dr. Keao NeSmith.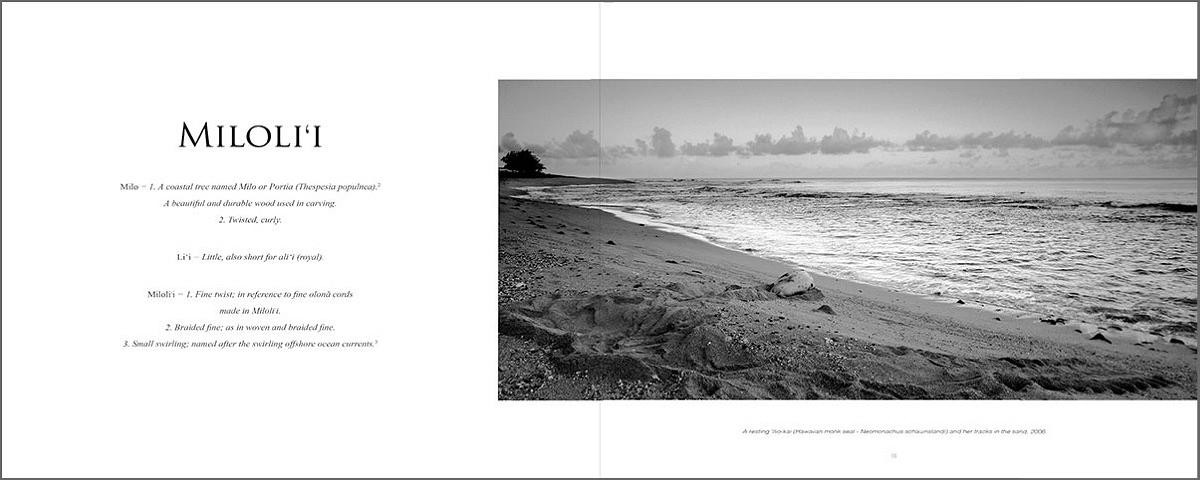 Each Chapter is broken down into the types of sites, such as Nā Heiau o Miloliʻi (Temples of Miloliʻi), with if possible their name and any information from Hawaiian sources or scientific research.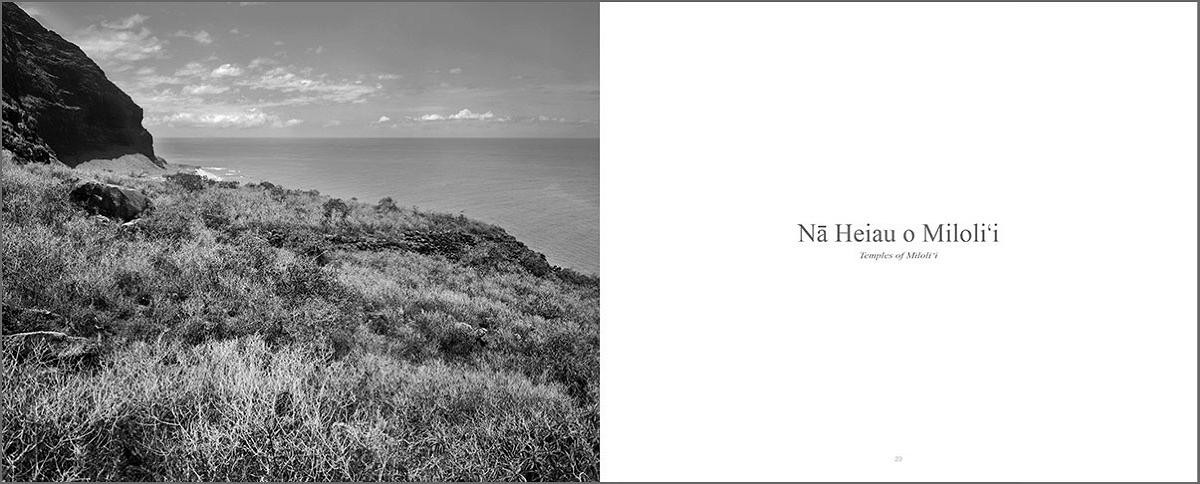 Kaumeheʻiwa is the only known interview done of a Miloliʻi native, done in 1917 by Rev. J. Lydgate. If you visit Bishop Museumʻs Hawaiian Hall you will notice the only remaining traditional Hawaiian hale pili (grass house), that was removed from Miloliʻi in 1900, by William Deverill for the new Museum.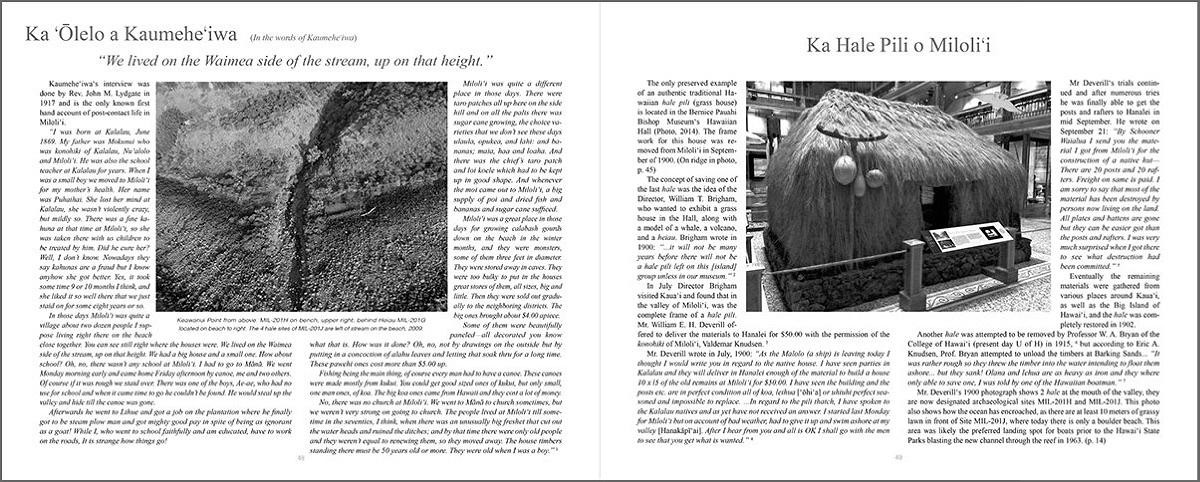 Archaeological plot plans of the sites are contained throughout the book,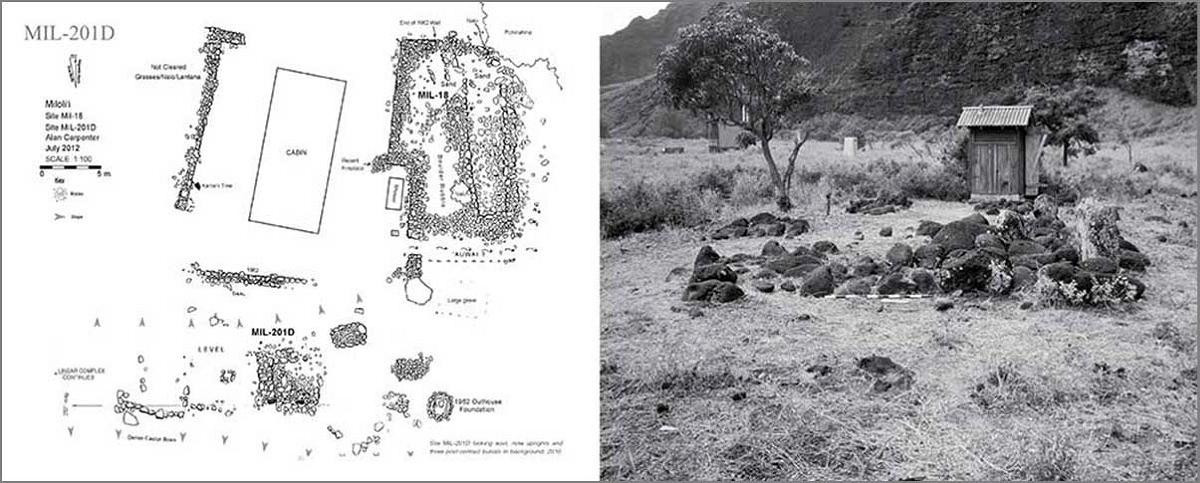 Along with exquisite drawings by Diana Izdebski.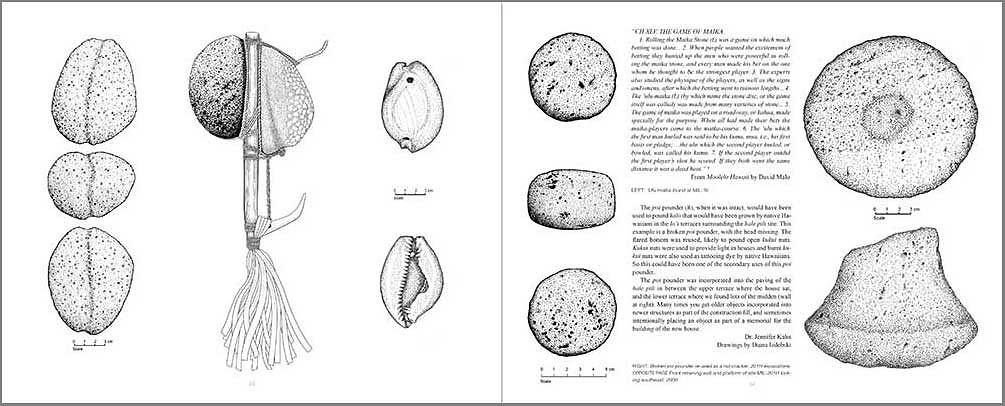 For us this book was produced as my way to Mālama Miloliʻi, to care for and help protect this sacred land through documentation and education.
We have donated books to all the Libraries on Kaua'i as well as the Kaua'i Museum and Kaua'i Historical Society, if you would like to view a book.
We have a very limited supply for sale on Kauaʻi at $50.00 each plus $2.38 GTE Tax.
Limited buyers will also will receive a 8X10 signed photograph from the book of a site in Miloliʻi.
We will take cash, check or PayPal. For more information contact us through the ABOUT + CONTACT Page.

May 1st - May 10th, 2020, Educational Exhibit at the Kauaʻi Society of Artist Gallery, Kukui Grove.
More information soon!
We hope you will join us on our adventure.....
Mahalo e Aloha ke Akua